AskLocal™
[
Free on the App Store]
AskLocal is a revolutionary and patent pending "communication by location" platform for messaging people in a small or large area anywhere in the world.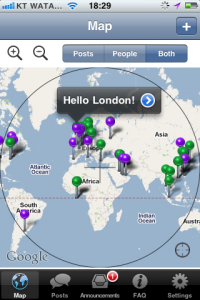 Small can be a part of a building and large can be the whole world.  You are in control of who can see and reply to your messages.
With AskLocal, you message by location and not by email address, phone number, friends or followers (as is the case with email, SMS, facebook and Twitter).
There is no registration or login in AskLocal, so it's quick to use and communication can be as anonymous as you wish.
As a location based communication medium, AskLocal is great for: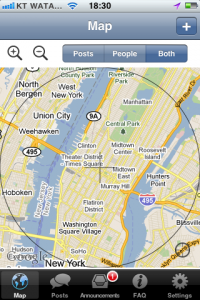 *  real time "write-in" questions and feedback at events (meetups, lectures, conferences, etc.),
*  advertising services,
*  chatting with people while waiting in line,
*  gathering location specific news,
*  buying and selling stuff,
*  crowd-sourcing work
* and even treasure hunts!
In AskLocal, you "pin" your message on the world map and you pick how far from that point people can see or reply to your messages.
Imagine using this to announce a block party that only people in your block can see, or posting a question on a college campus that only campus people can reply to.
Download AskLocal to post and reply to location-based messages anywhere in the world.